For the last few years now I have been on a kick for affordable boho rugs. You know, the vintage-inspired beautiful rugs that you see in many of Studio McGee's designs. They add so much warmth, color and texture to a space, but the boho vintage inspired looks are amazing at hiding dirt (perfect for pets and kids)!
This post contains affiliate links for your convenience. Click here for full disclaimer.

I have searched online for hours and hours looking for the best sources to find affordable boho rugs. In my hunt, I've come up with quite the stash of rugs that I've saved over time. Today, I am sharing some of my favorite rugs that are beautiful and under $300.
While I admire the vintage rugs used by my favorite interior designers, they come with a hefty price tag. Oftentimes over $2,000 for a single rug. No thanks! So, if you are on a budget like me and looking for something more affordable, these rugs are right up your alley.
Below the pictures of the rugs are linked directly to the website to purchase. I receive a small commission if you click through and buy, but at no cost to you.
Affordable Boho Rugs
These rugs are not actually vintage rugs, they just have that and "worn in" look that I love so much.
In our master bedroom I have this boho rug (it's number 2 rug pictured above) and I absolutely love it. It was under $200 for the 8×10 and it's nice and thick and soft. It's also extremely durable and easy to clean. Our dog has gotten sick on it a few times at night and it cleans up wonderfully! There isn't one stain and the greyish cream color hides her dog hair. You can see more pictures of the rug in this post about our bedroom makeover.
In our previous house we had this blue boho indoor/outdoor rug (number 1 rug pictured above) in our entry and it was wonderful! Indoor/outdoor rugs are great for entry's because you can hose them off any time they get dirty from all the mud getting tracked in. The blue is nice and subtle and not overly bright on this rug.
Boho Rugs for Every Room
Boho rugs make a space feel so comfortable and inviting. In my opinion, every room could use a beautiful vintage-y rug! I even like to use them in our bathrooms. I get a runner size and it fills the space perfectly without needing multiple rugs by the shower and vanity. For some reason in the cold mornings when I get ready I like to stand on a rug so my barefoot aren't on the floor.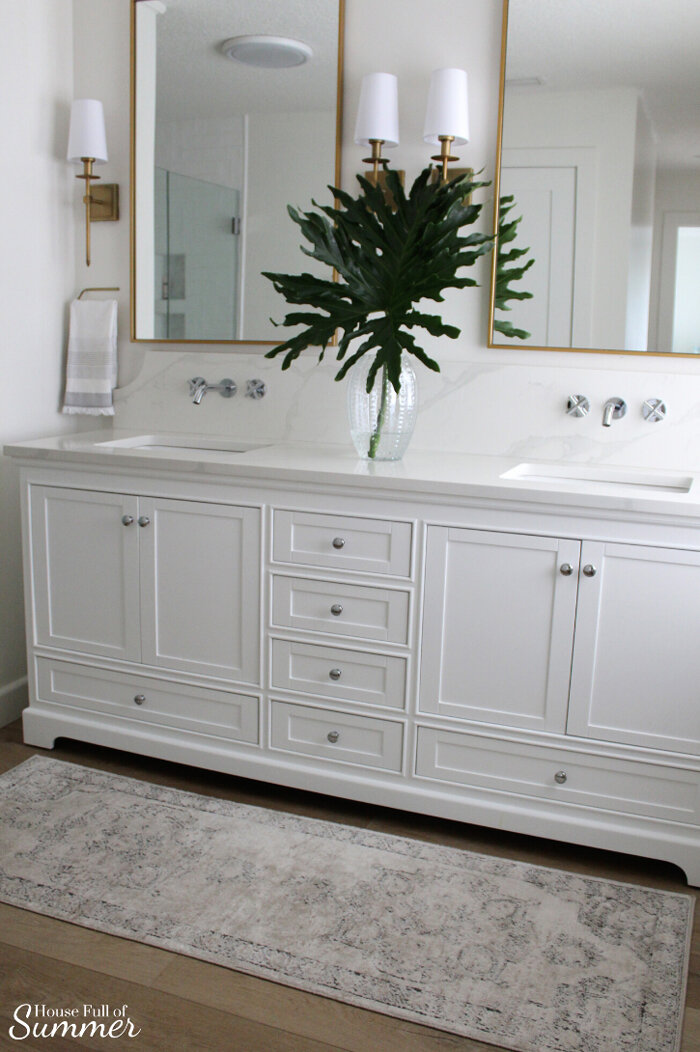 Bathroom via House Full of Summer
Layering Rugs
Layering rugs is a great option if you have a larger living area space but you don't want to spend a ton on a big vintage boho rug. You can buy a smaller vintage inspired rug (the smaller the size the less expensive) and layer a plain jute or sisal rug underneath it in a larger size to fit the space properly. It adds more warmth and texture to your room too! Jute and sisal rugs are durable, just know that when liquids are spilled on them, they do leave stains.
Image from Studio McGee
Rugs Pads
Rug pads help the rugs not move around if they're on a hard surface and makes them look thicker and comfortable. We had this premium rug pad from Amazon under a 5×7 rug in the entry and it made the rug feel so soft and comfortable! It's pretty crazy the difference it made. I definitely recommend a rug if your rug is on the thinner side because it will make it that much more comfortable. You'll want to lay on the ground it's THAT soft.